Antioch Devotionals-Jan. 27-31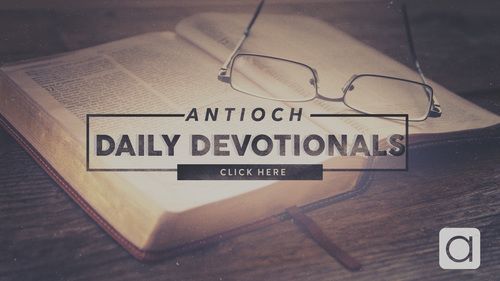 MONDAY, JANUARY 27th- Ephesians 6:12
The Unseen Battle by Shawn Hammontree
"For we are not fighting against flesh-and-blood enemies, but against evil rulers and authorities of the unseen world, against mighty powers in this dark world, and against evil spirits in the heavenly places." - Ephesians 6:12

Paul wanted us to know that there is an unseen battle going on all around us every day between good and evil. While we cannot see this spiritual struggle, we can certainly see its effects in our world- both good and bad on the nightly news or on our social media feeds. THE BATTLE IS VERY REAL; this is why we have to be both aware of it as well as equipped for it.
So now that you are aware of it, let Paul instruct you how to deal with it.
"Therefore, put on every piece of God's armor so you will be able to resist the enemy in the time of evil. Then after the battle you will still be standing firm. Stand your ground, putting on the belt of truth and the body armor of God's righteousness. For shoes, put on the peace that comes from the Good News so that you will be fully prepared. In addition to all of these, hold up the shield of faith to stop the fiery arrows of the devil. Put on salvation as your helmet, and take the sword of the Spirit, which is the word of God. Pray in the Spirit at all times and on every occasion. Stay alert and be persistent in your prayers for all believers everywhere." -Ephesians 6:13-18


TUESDAY, JANUARY 28th- Psalm 31:6 (NIV)
Connected to Greatness in Him by Kerry Stitch
"I hate those who cling to worthless idols; I trust in the Lord." - Psalm 31:6

"My New Year's resolution was to quit all my bad habits and then it occurred to be that nobody likes a quitter." Anonymous

Habits absolutely shape us. A study by Duke University suggests that 40% of the actions we take every day are not the products of choices but of habits. (*The Common Rule, Habits of Purpose for an Age of Distraction) One popular habit, or borderline addiction, is seeking a "connectedness" to others, but on our terms. Stats projected for 2020 reveal that 90.4% of Millennials, 77.5% of Generation X, and 48.2% of Baby Boomers are active social media users equaling 3.5 billion social media users worldwide. (Oberlo.com, Nov. 7, 2019) That's enough connectedness to signal a common and perhaps cataclysmic need. What are we searching for or afraid we will miss?
In a world where digital screen time trumps face-to-face encounters (under the headings of convenience, comfort, and efficiency) are we truly following Christ's example of growing in community by transparently sharing our authentic selves with all of our baggage and weaknesses? I'm not against digital opportunities to connect, but I believe it's only one tool in the utility belt of a believer. The average screen user spends 3 hours a day on social sites and messaging. This would not be so sad if it weren't for the fact that these habits are forming our hearts in addition to our schedules. I think God has a better plan and a game changer, in Jesus the ultimate social and spiritual influencer! When we choose through salvation to become connected to the Most High, our spiritual vision isn't lacking and our need for validation comes through His family photos, not our posting. All that truly matters are His "likes" on our choices, habits, and schedules. It is in finding what we were made for that will create the habits that most please our Heavenly Father. Romans 8:28 reminds us that we are called according to His design and purpose. Now that's a New Year's resolution worthy of habit-forming on our earthly journey.
WEDNESDAY, JANUARY 29th- 1 John 4:4
By Toya Aultman
"You, dear children, are from God and have overcome them, because the one who is in you is greater than the one who is in the world." -1 John 4:4

Sitting in the service Sunday, I was taken back to my childhood and I could hear the Lanny Wolfe Trio belting out:
"God is greater than the wisest men.
Greater than the pow'r of sin.
God is greater than the gates of hell.
Greater than any tongue can tell.
God is greater than the richest king.
Greater than anything.
He's greater (greater), Greater (greater),
Greater (greater), Greater (greater),
Greater is He that is in me than he that is in the world!"
Yes, I realized I just aged myself, but what a great truth to grow up on! I'll admit, back then it was easy to see God's army surrounding me daily, the childlike faith and the eyes focused on Him and His greatness came easy.
Then life happens, we grow up and find adulting isn't nearly as much fun as it seemed. We can allow the hard things of this world to cloud our vision. As grownups, we so often focus on the problems instead of the Problem Solver, the disease instead of the Healer, our weakness instead of Almighty, the chaos instead of the Prince of Peace.


THURSDAY, JANUARY 30TH 2 Kings 6:16
By Terri Smith
"Don't be afraid," the prophet answered. "Those who are with us are more than those who are with them." - 2 Kings 6:16
Have you ever had a time when you felt you were facing hills full of horses and chariots of fire? But this very situation is why we should spend time daily in God's Word. Even then, being human we still risk doubting.
I know that we may never face hills of horses or chariots of fire, I know as well as you do that there are times in our life when, if someone asked about your situation you would feel like telling them this is what it feels like. If we are not careful we become filled with overwhelming fear.
Bro. Jason said that God's power is greater than ANY fear we may have No matter how big the problems, we just have to stay continually in tune with the Lord. So that when things come our way, our mindset is different, and we are not totally devastated.
BUT BEWARE! Satan is there to throw us off and he will use anything, and anybody, to do it so it is very important to NEVER LET OUR GUARD DOWN.

Prayer: Father, thank you for your power that we can tap into at any time and or place. It's all ours just for the taking. AMEN